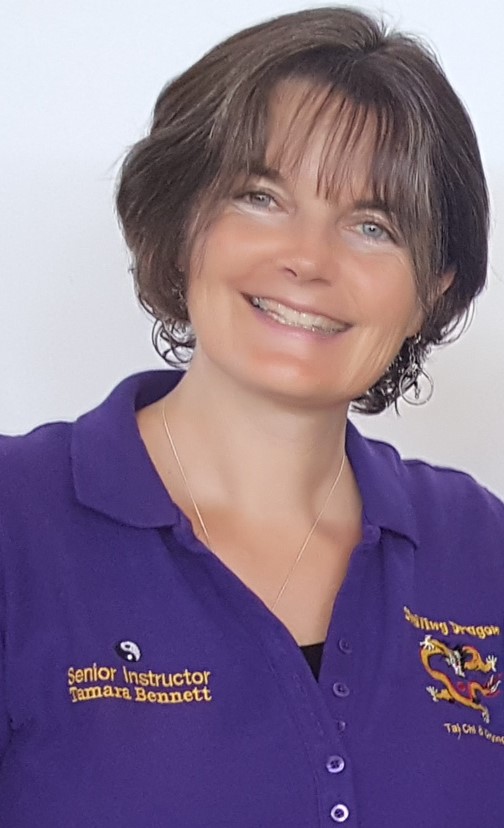 Tamara Bennett
Master Trainer Tai Chi for Health Institute
FHG Inc – Secretary
Mobile: 021 255 1087
Email: taichi@smilingdragon.co.nz
Website: www.smilingdragon.co.nz
Facebook: www.facebook.com/smilingdragontaichi
Classes: Pukekohe, Waiuku, Mauku/Patumahoe and Tuakau
Online ZOOM Classes: Click Here
Instructor Training workshops nationwide
Open to ALL
​Moving meditation for body health (whakapakari tinana) Gentle movements (nekehanga ngawari)
Classes (community and online), Instructor Training, Corporate, Kidz and BREATHE Coaching
ALL AGES – ALL ABILITIES (Adults & Kidz)
Tai Chi involves a series of slow, fluid, gentle movements that improves fitness, muscle strength, balance and flexibility. Regular movement and breathing effectively can help improve blood pressure, blood sugar levels, cardiovascular function and can also help manage the symptoms of many other ailments.
Community Classes + Weekend Workshops …Tai Chi for Health programmes, Yang 24, Yang 10, Sun 73, Qigong sets, Tai Chi Fan, Tai Chi Cane, 32 Sword,  plus Breathing Effectively. Classes maintain a high standard of safety, encouraging practice, mindfulness and a healthy lifestyle.
Online Classes: Click Here
What is Qigong? 'Qi' (energy) + 'gong' (working with); so Qigong is simply working with your body's energy and is the foundation of the Chinese health system. Using breathing, movement and meditation to bring awareness, healing and balance to your body inside and out. Smile Within
Qualifications and Member Associations
Tamara has been practising Tai Chi and Qigong since 1999.
Authorised Master Trainer TCHI ~ Tai Chi for Health Institute (since 2015) www.taichiforhealthinstitute.com
Master Trainer Tai Chi 4 Kidz (2021) Dr Paul Lam, Australia
Master Trainer Tai Chi for Life (2021) Dr Paul Lam, Australia
Master Trainer Qigong for Health 'Five Element Qigong' (2021) Dr Paul Lam, Australia
Master Trainer Tai Chi for Memory (2019) Dr Paul Lam, Australia
Master Trainer Tai Chi for Heart Conditions (2019) Dr Paul Lam, Australia
Master Trainer Tai Chi for Diabetes (2017) Dr Paul Lam, Australia
Master Trainer Tai Chi for Energy (2017) Dr Paul Lam, Australia
Master Trainer Tai Chi for Rehabilitation (2016) Dr Paul Lam, Australia
Master Trainer Tai Chi for Arthritis, Falls Prevention, Seated TCA (2015) Dr Paul Lam, Australia
Tai Chi for Life Instructor (2021) Dr Paul Lam, Australia
Qigong for Health 'Five Element Qigong' Instructor (2021) Dr Paul Lam, Australia
Tai Chi for Memory Instructor (2019) Dr Paul Lam, Australia
Tai Chi for Heart Conditions Instructor (2019) Dr Paul Lam, Australia
Tai Chi for Osteoporosis Instructor (2013) Dr Paul Lam, Australia
Senior Trainer TCHI ~ Tai Chi for Health Institute (2010-2014) www.taichiforhealthinstitute.com
Tai Chi for Energy Instructor (2012) Dr Paul Lam, Australia
Exploring the Depth of Sun Style 73 (One-Week Sydney 2011, 2015)
Tai Chi 4 Kidz Instructor (2010) Dr Paul Lam, Australia
Tai Chi Qigong Shibashi Instructor (2009) Sifu Wing Cheung, Canada/China
Tai Chi for Diabetes Instructor (2008) Dr Paul Lam, Australia
Exploring the Depth of Tai Chi for Arthritis (2006, 2010, 2012 & 2014)
Tai Chi for Arthritis Part 2 Instructor (2006) Dr Paul Lam, Australia
Tai Chi for Arthritis Instructor (ACC) (2005)
Universal Healing Tao Qigong Associate Instructor (2003) with Gabrielle Euteneuer Senior Instructor for Mantak Chia, Thailand (Initial training 1999-2003)
Workplace First Aid (current)
Approved Group Community Strength & Balance Instructor (Since 2017)
ACC Provider contracted to deliver the Tai Chi for Falls Prevention programme to Franklin District (2006-2012)
Memberships and Offices Held:
Franklin Health Group Inc ~ Member & Executive officer (since 2008) www.franklinhealth.co.nz
Tai Chi for Health Community NZ Inc ~ Secretary TCHC NZ (since
2011) www.tchc.co.nz
NZ Qigong & Traditional Chinese Medicine Association ~ Member & Level 3 Qigong Teacher of NZQTCMA www.qigong.org.nz (since 2010)
NZ National T'ai Chi Ch'uan Association ~ Member of NZNTCCA (since 2010)
NZ Kung-Fu Wushu Federsation Inc ~ Constituent Member of NZKWF (since 2014)
Franklin Health Expo Coordinator (2010, 2011 & 2012)